One simple app for calls, texts and contacts
😎
A modern, app-based business phone system. No hardware, total flexibility.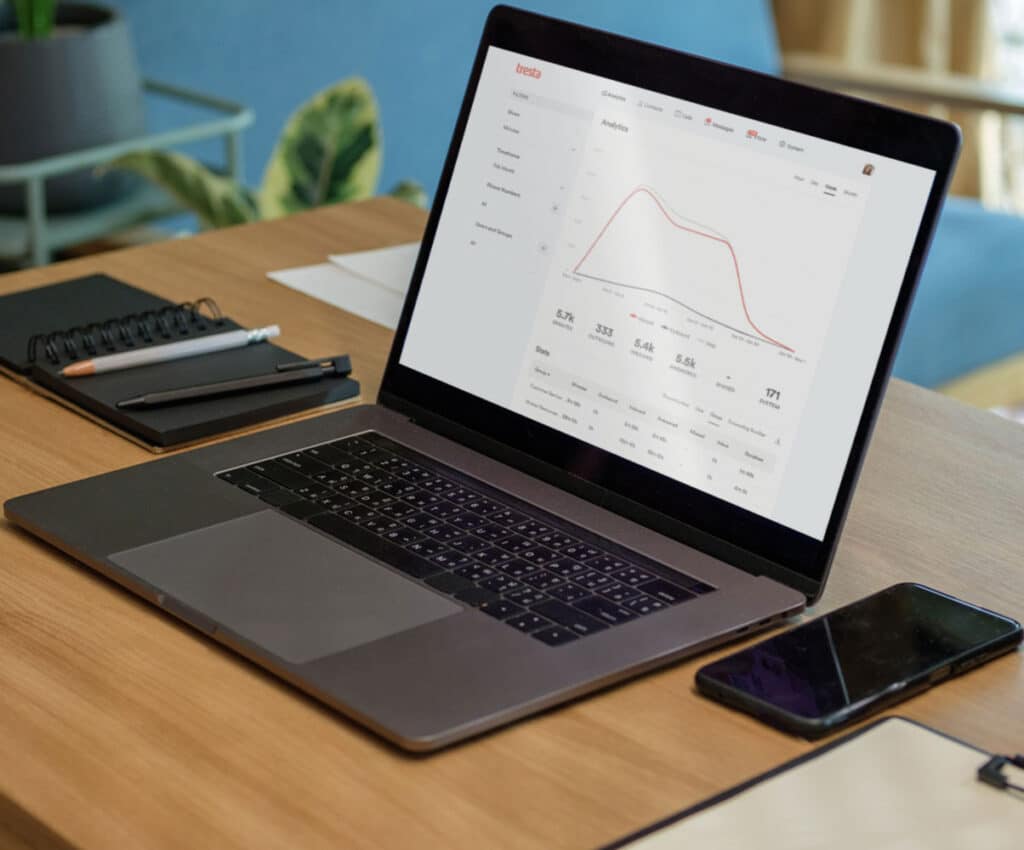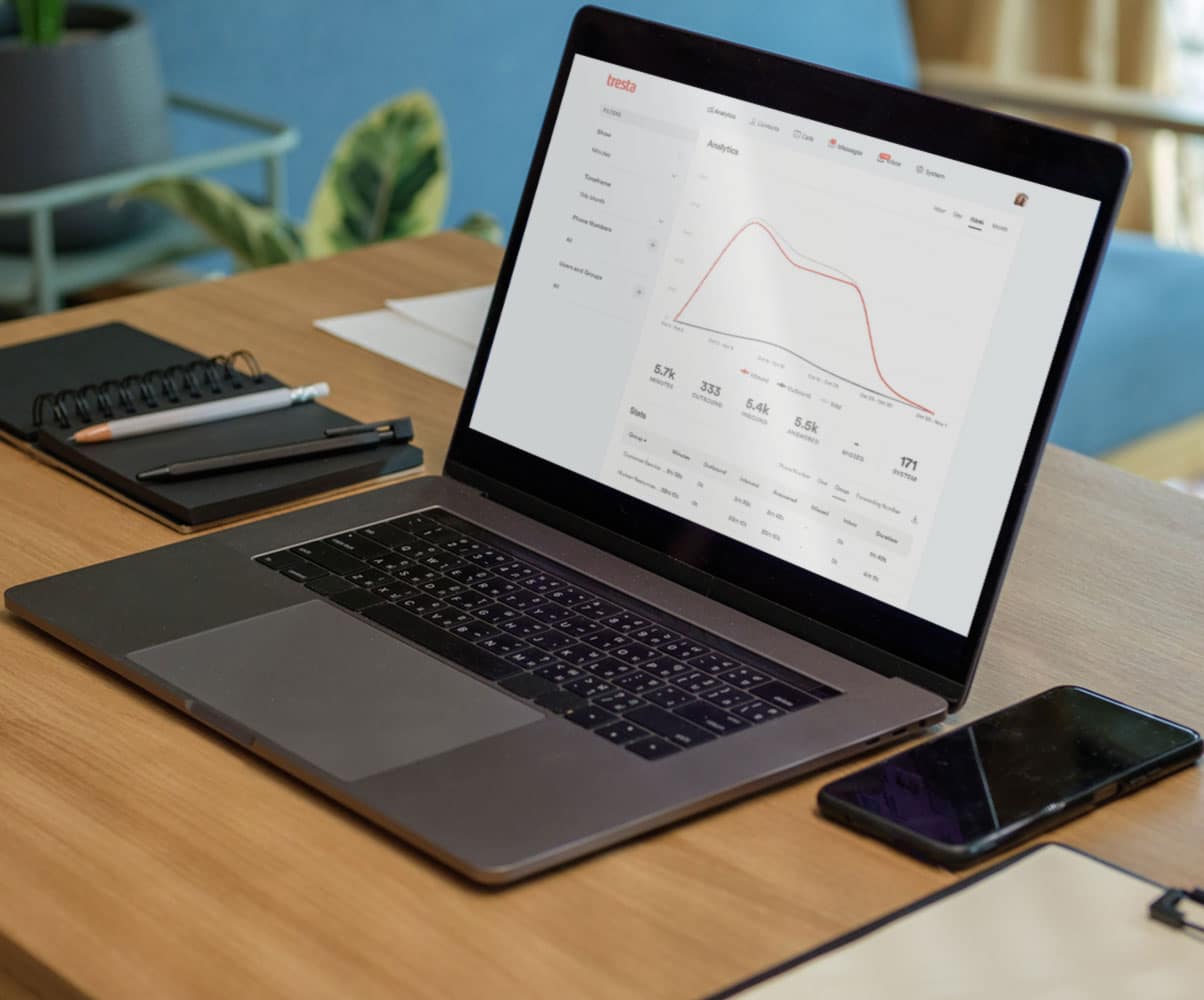 Easy to setup and manage.
Tresta makes it incredibly easy to add a business number with all the capabilities of a cloud phone system.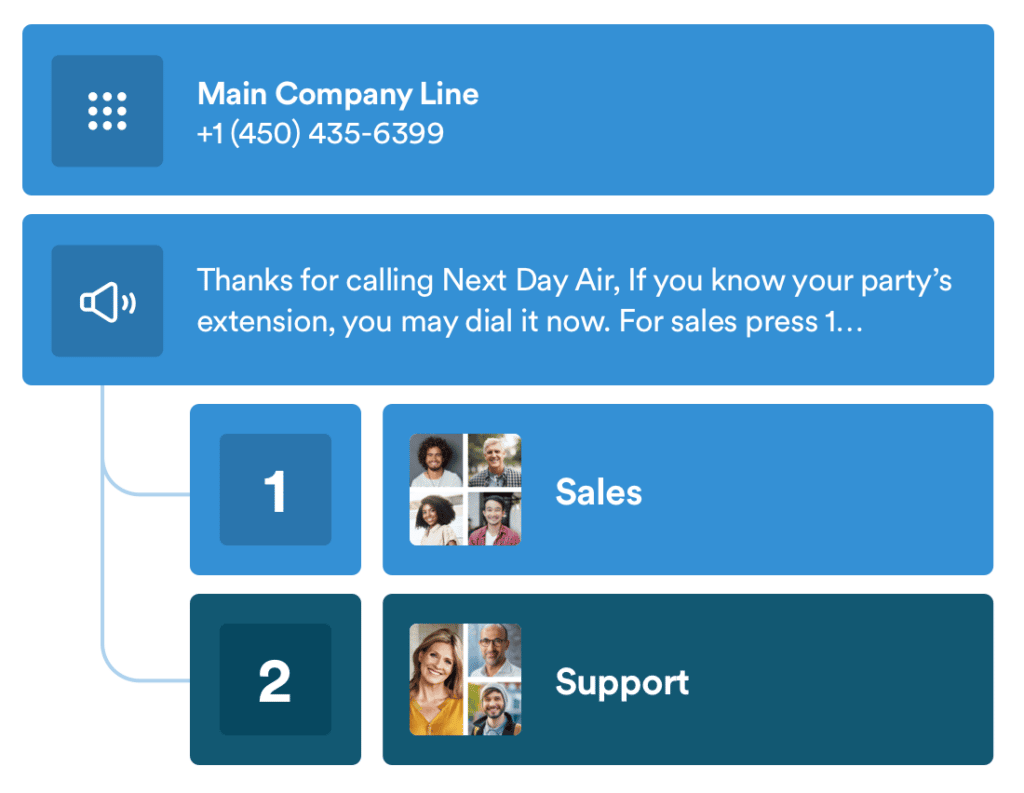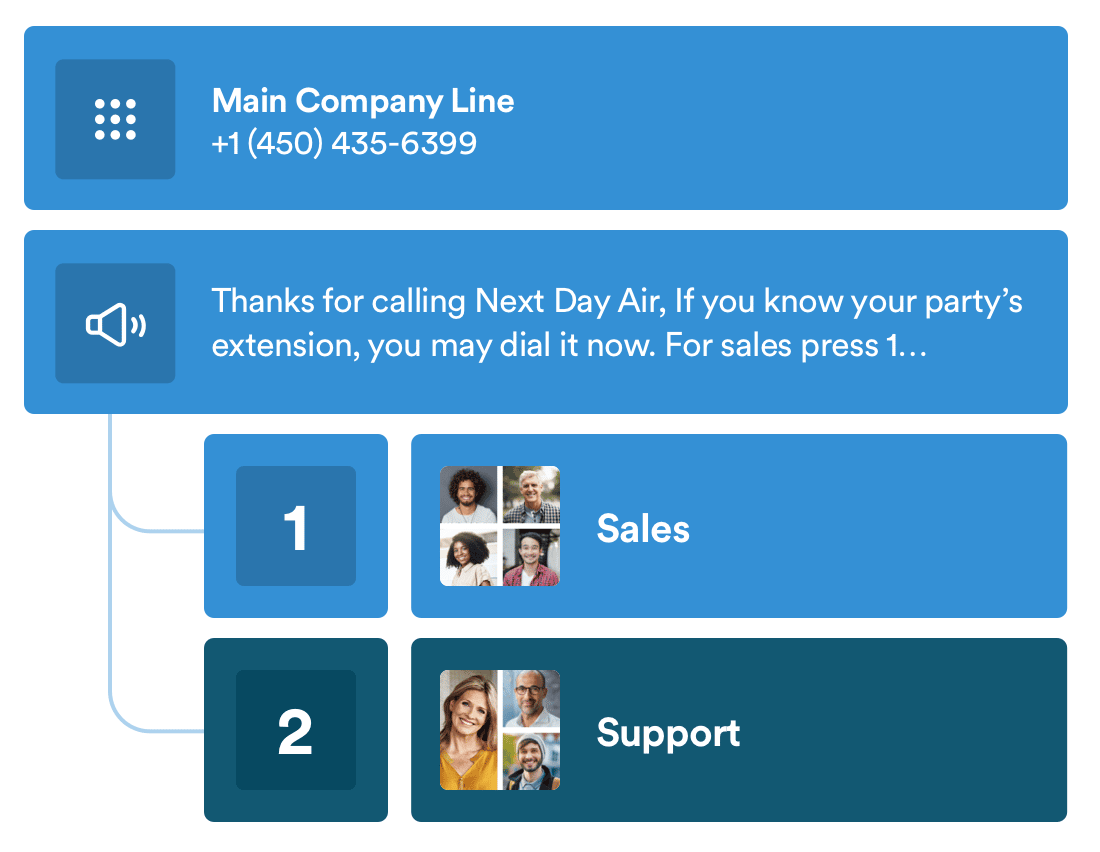 Get a new phone number instantly
Add a new phone number for your business – instantly. Tresta has in-stock local numbers throughout the United States and Canada, as well as toll-free numbers, for only $5/mo/number.
Set up your number in minutes
Your new phone number is active immediately upon completion of signup, and with our call flow builder you can update your number with just a few clicks at anytime. You have complete control over your number in one simple and intuitive interface. 
Great features and reliability.
Everything you need for better business calling and texting, with rock-solid 99.99% availability.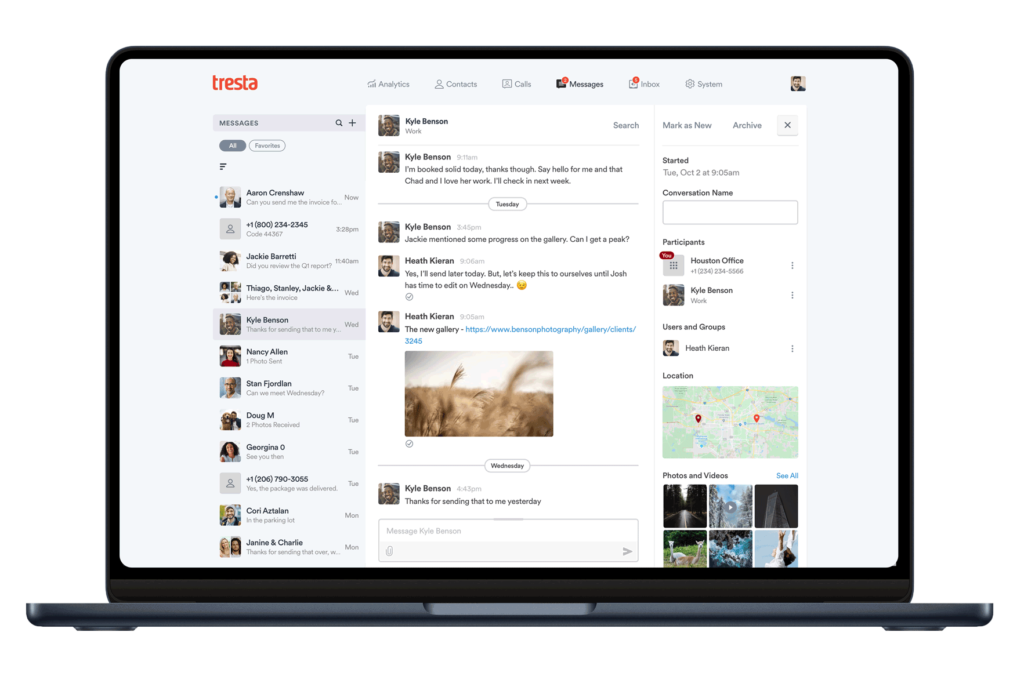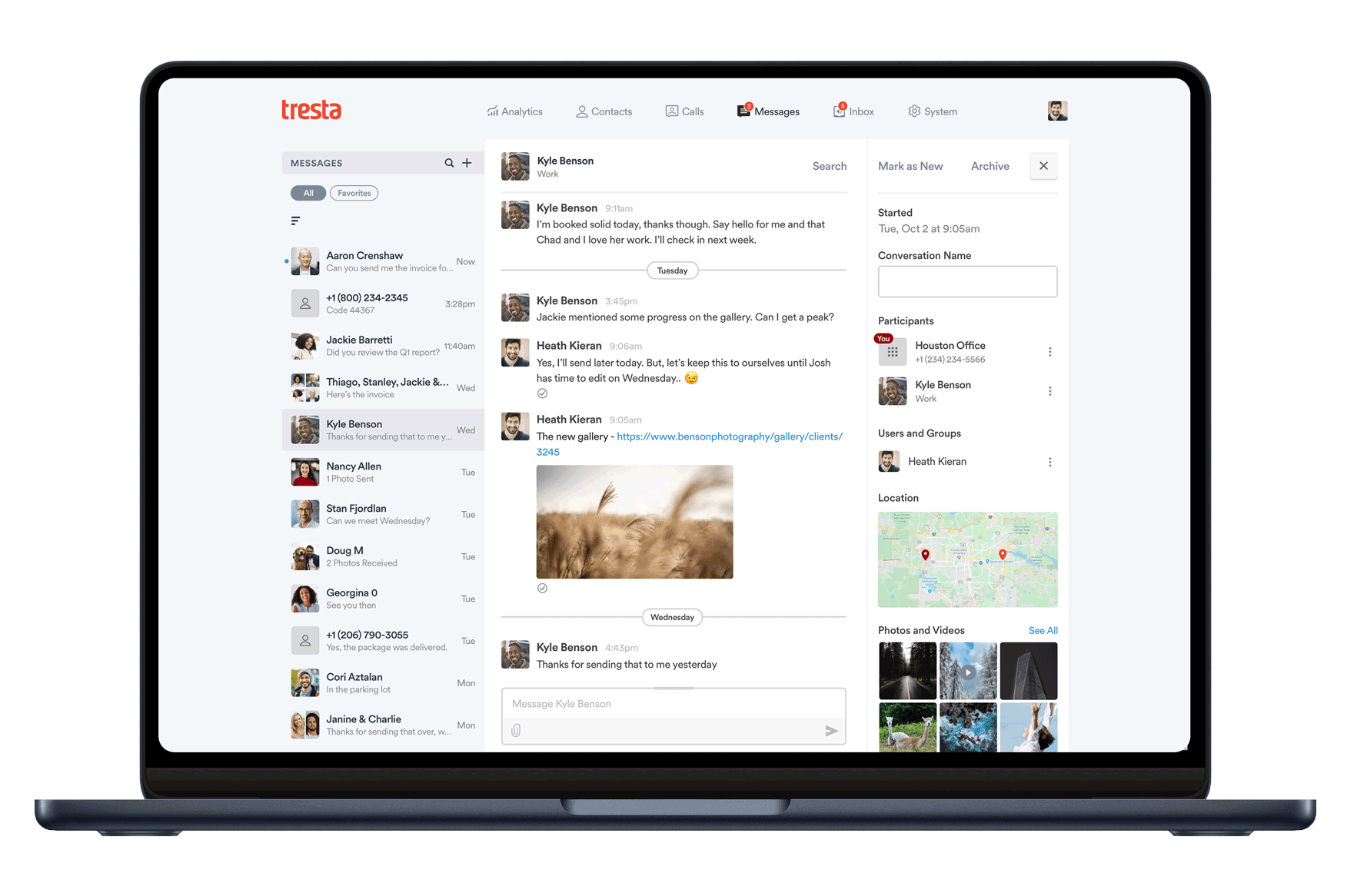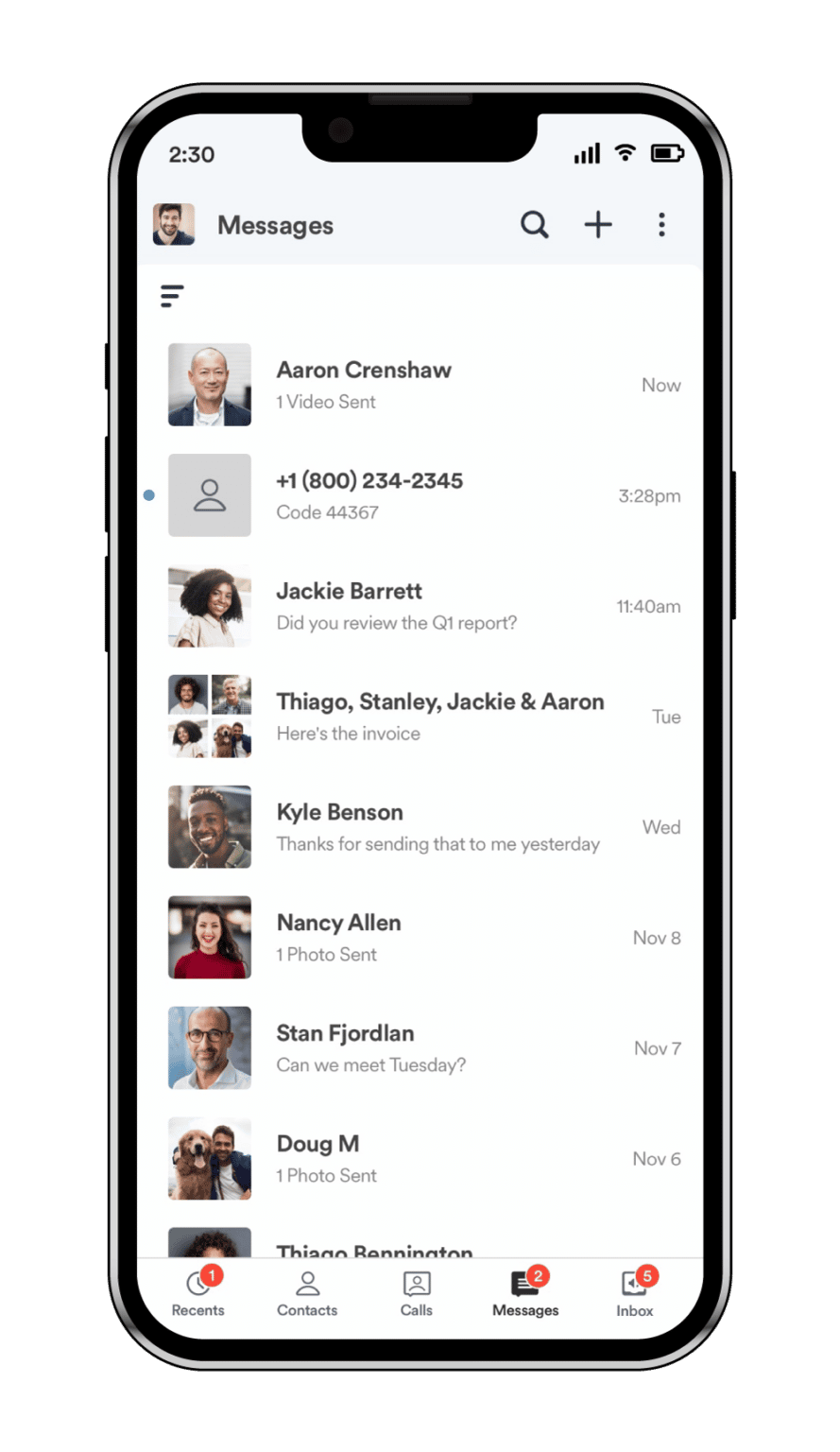 Calling, texting and contacts on any device
Tresta's web and mobile apps let you call and text on your business number from anywhere, on any device. And with powerful routing capabilities, you can present a professional image anytime someone calls or texts your business.
Tresta's cloud-based, distributed architecture ensures that your phone number's always working properly. We guarantee 99.99% uptime, or your money back.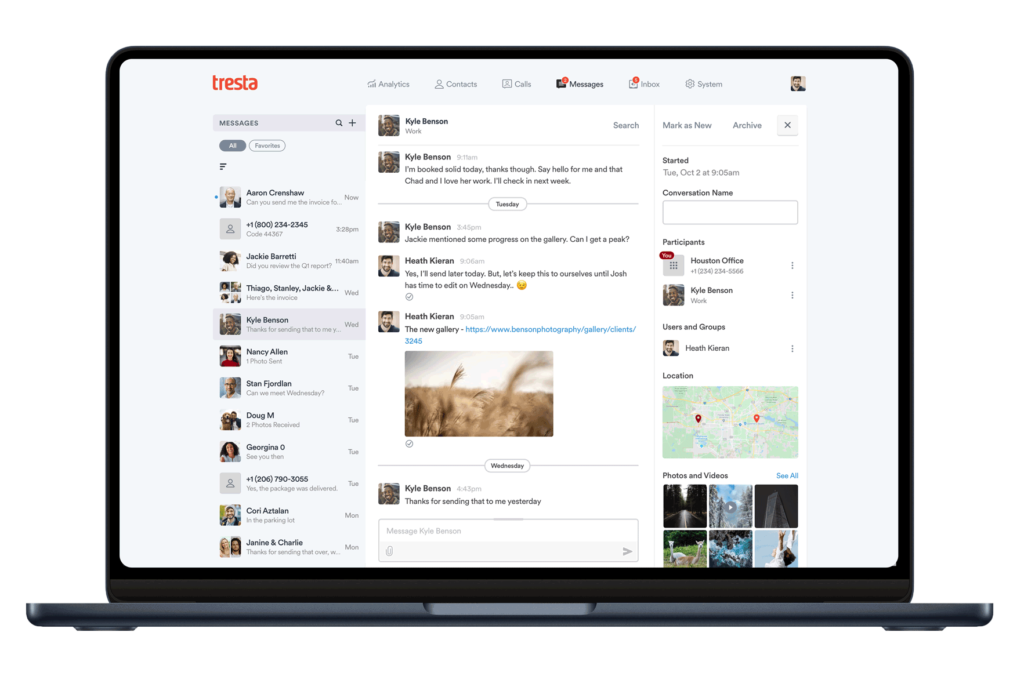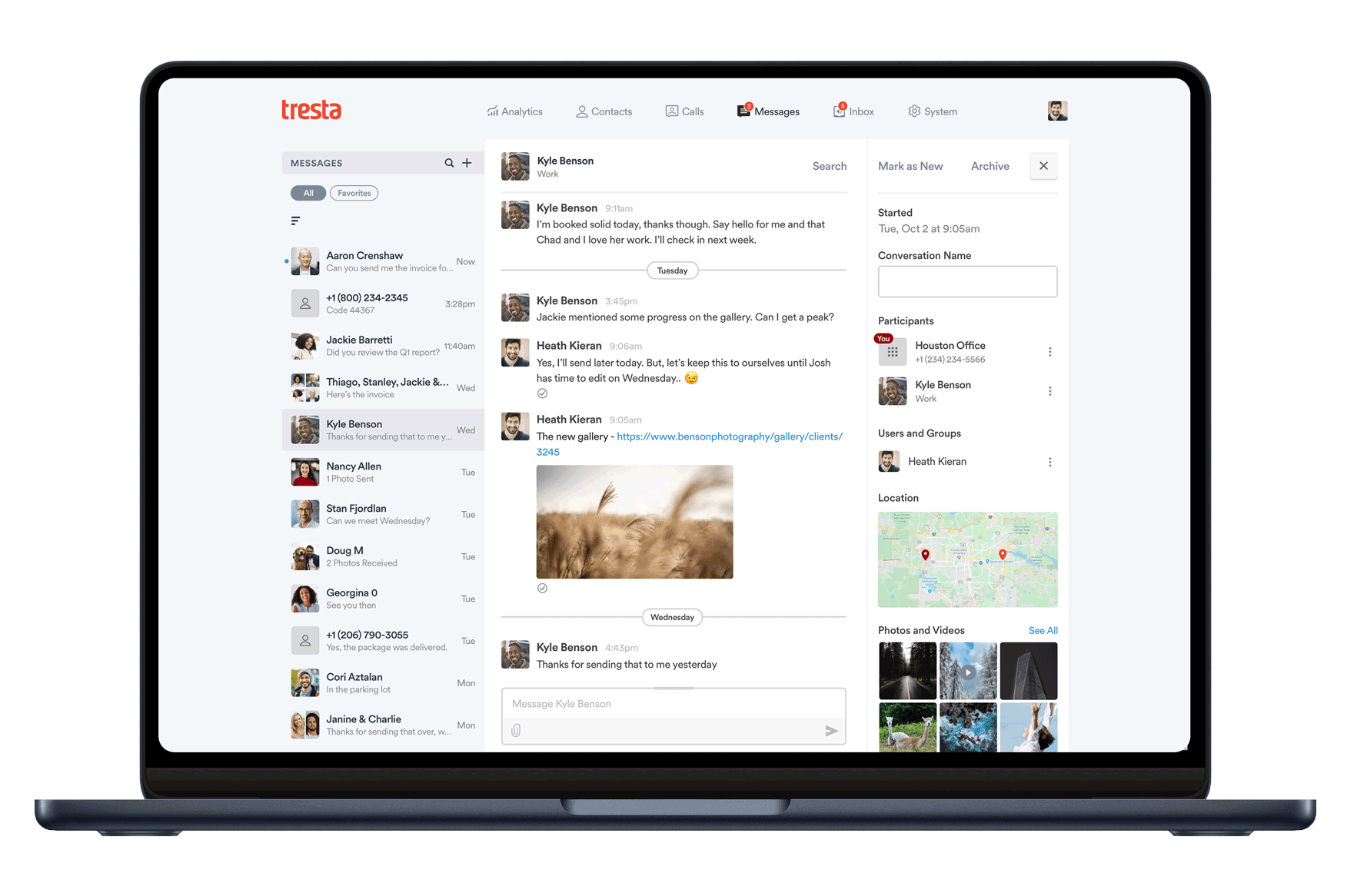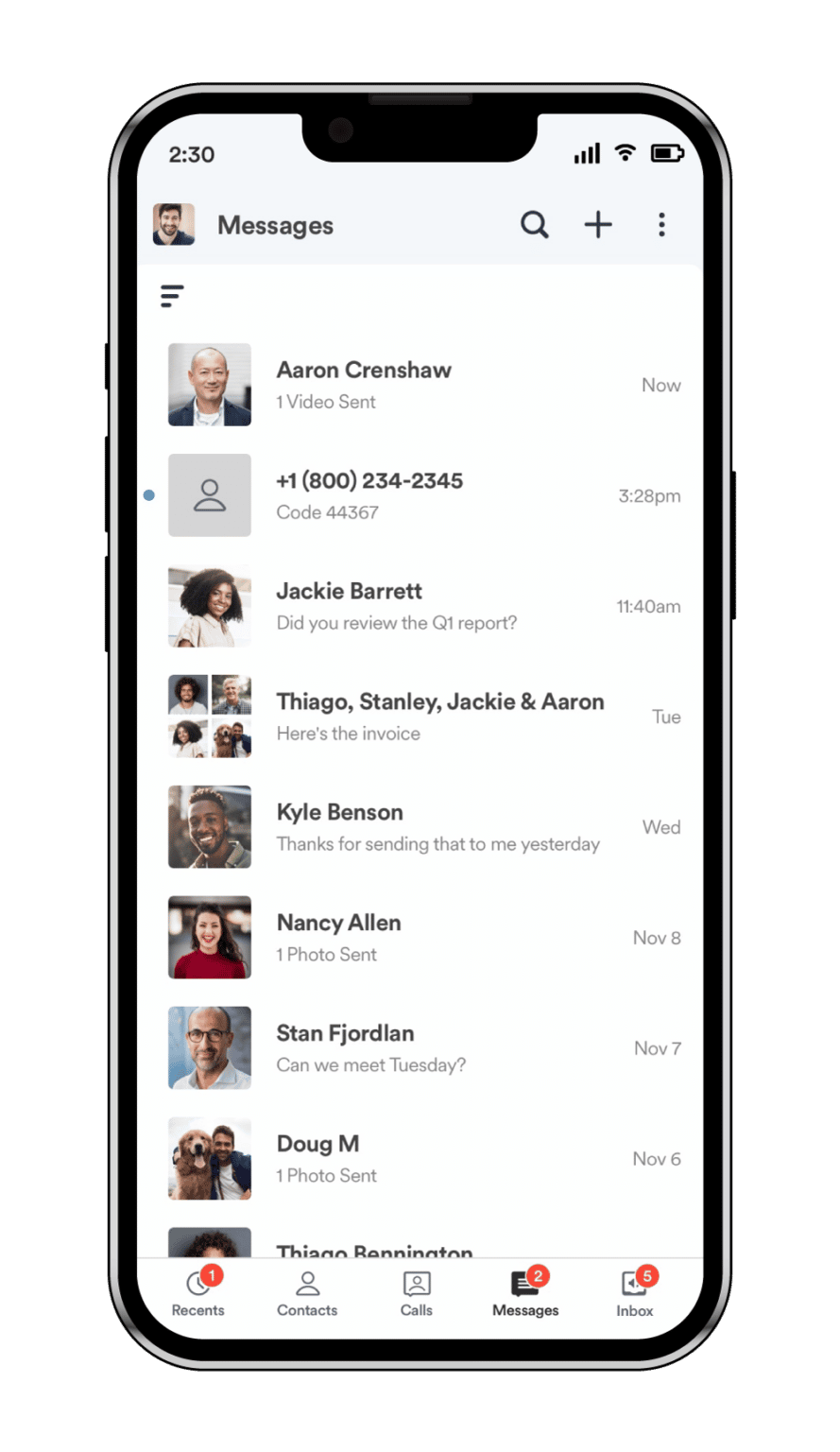 Automatic spam detection and blocking.
Put an end to robocalls and automated spam with Tresta's human detection feature.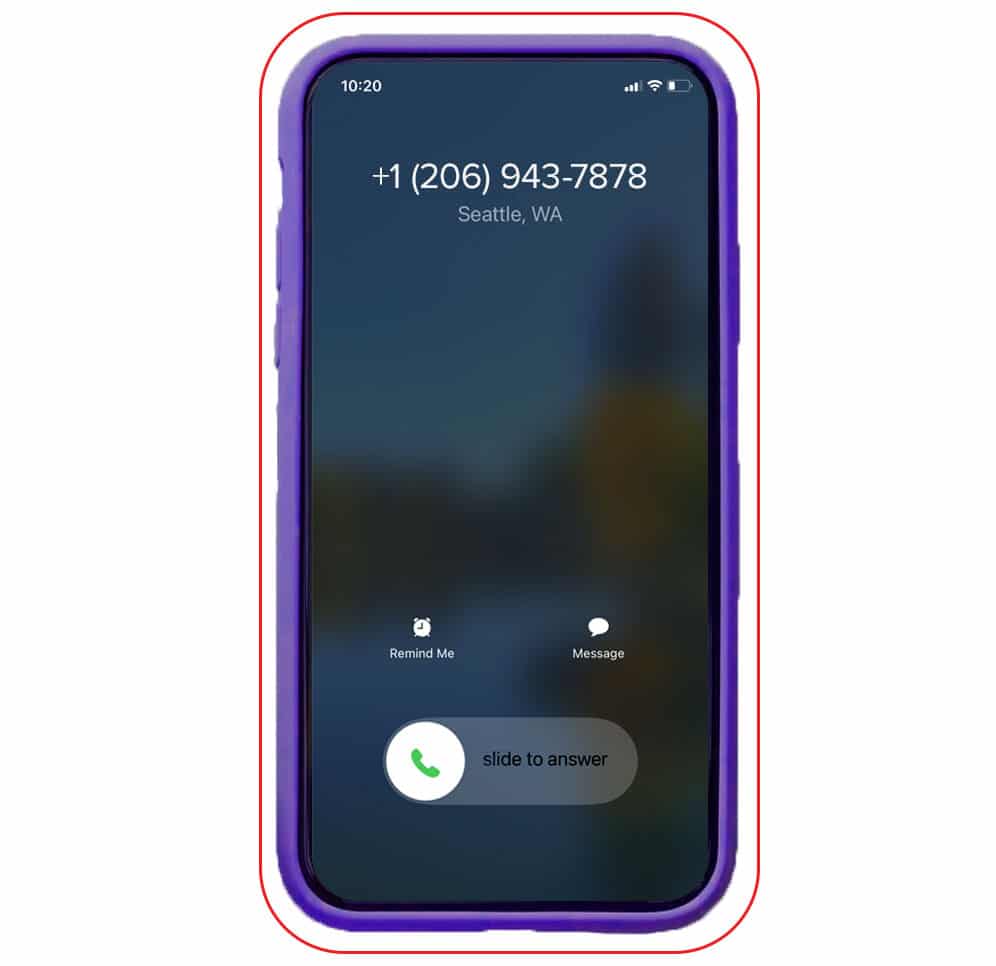 Block spam with automatic human detection
With automatic human detection, callers that aren't in your contacts will be asked to press 1 to prove they're human. Boom! No more robocalls. 
Eliminate robocalls, political ads and more 🙌
Save valuable time and money when you eliminate the constant barrage of robocalls, political ads and other automated spam.
Amazing customer support.
Anytime you have questions or need help, our team is here for you with truly outstanding customer support.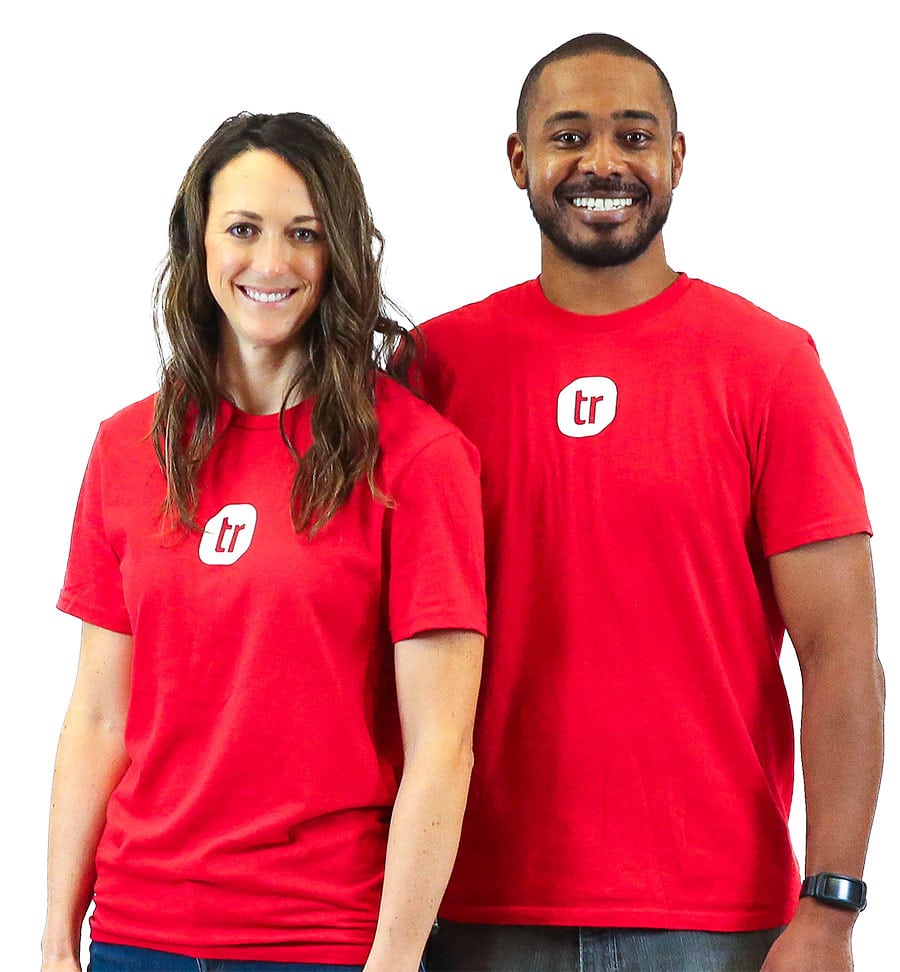 This is an amazing company. Their customer service is top notch which these days is very hard to find.
Friendly, helpful product specialists
We take pride in our customer support. We have a passionate team of U.S.-based agents that are here to serve our customers and ensure that your concerns are addressed. With an average speed of answer under 35 seconds, you'll always be greeted quickly with a helpful agent ready to handle your request with friendly, personal service.
Refreshingly good customer service
We strive to design our product to stand on its own, but we understand that your needs may be unique. We offer a range of options for educating yourself on Tresta, including our knowledge base, YouTube videos and our blog, but we also have a supportive staff of customer service agents available from 8 am to 8 pm ET to address your questions via chat, email or trusty phone. 😃 We want you to have a great experience with our product and we are committed to supporting you in your business endeavors.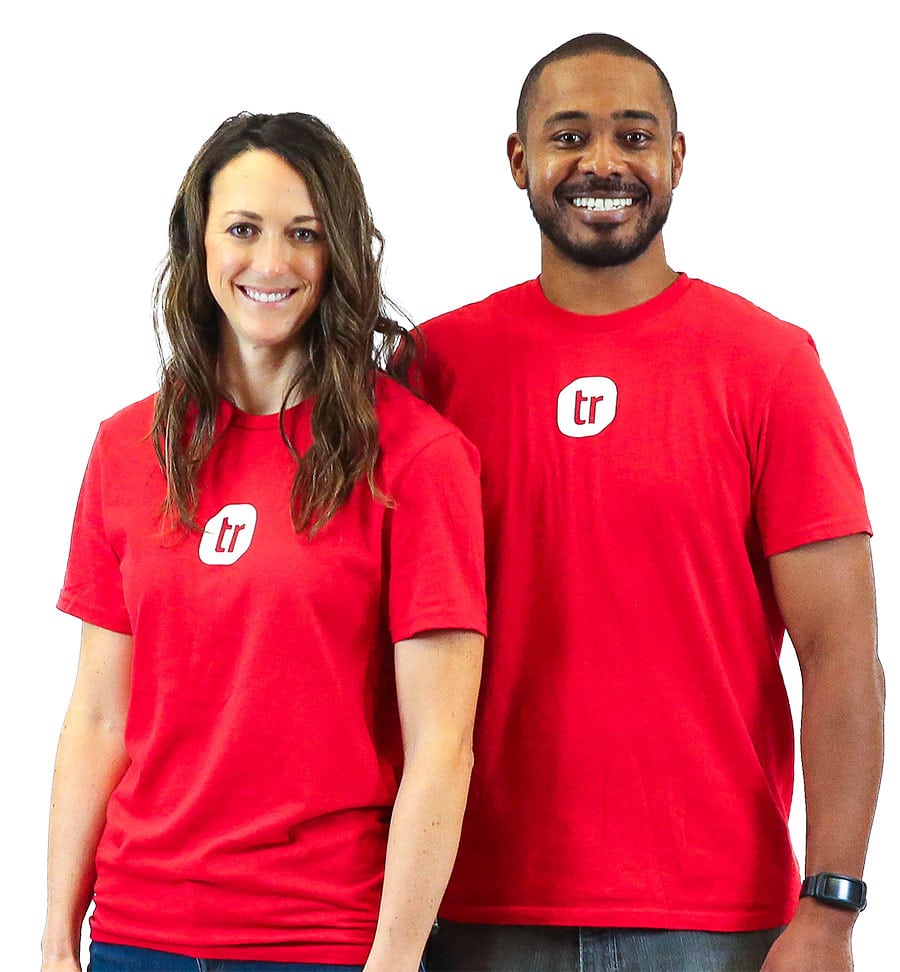 This is an amazing company. Their customer service is top notch which these days is very hard to find.
Designed to grow with your business.
It's easy to start with what you need today, and grow into more later. There are no confusing plans to select, you get every feature for one low price.
Access Tresta's web and mobile apps for one low monthly fee. Every feature is included, with no confusing plans to choose between.
Add users to your business phone system at an incredibly economical price, with features like call rollover, voicemail and call recording.
Add local and toll-free phone numbers that can be activated instantly. Or, transfer your existing number in 4 – 7 days. 
Plus taxes and fees. Minimum of 1 user and 1 phone number required. Messaging is not available during the free trial period There will be a charge to activate messaging on local numbers of $20 for personal/sole proprietors and $69 for all other business types Personal and sole proprietors may only use messaging on one (1) local phone number. All other business entities who provide the required information can message on an unlimited number of local numbers. Messaging to Canadian wireless numbers from a Toll-Free number may not be available due to limitation on the wireless phone number.
Create your free account to see why 9 out of 10 people who start a free trial become customers.​
Trusted by thousands of businesses.
Try Tresta today to see why 9 out of 10 free trials become customers thanks to Tresta's amazing features, price and customer support.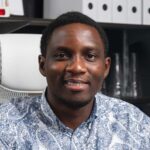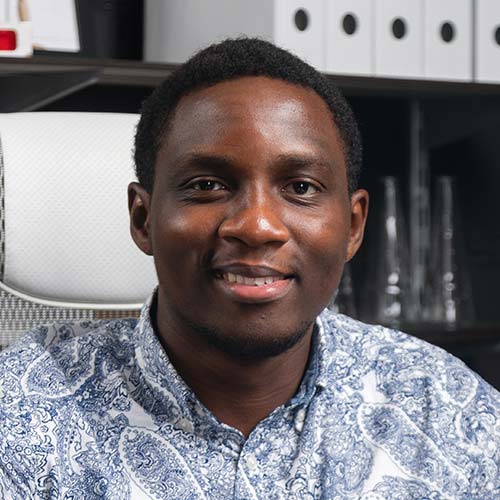 Dwayne
Their customer service is top notch. It has the three components that any high-level customer service team should have. Accessibility, knowledge, and responsiveness. Each Tresta agent that I have spoken with has been engaging, willing to help, and patient with all my questions.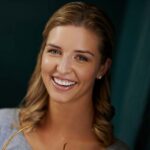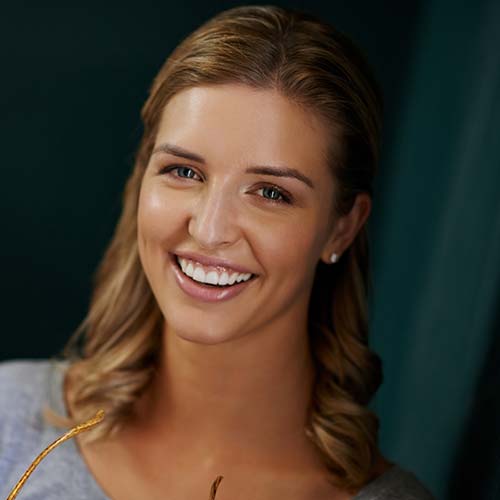 Allie P
I like how easy it is to switch between phone numbers within the app whether it's dialing out for a call or sending a text to a client. I like that I can receive and send pictures in the texts. I also like that when a client calls me it rings my phone with my "Tresta number" and tells me via a recording that it is a Tresta call.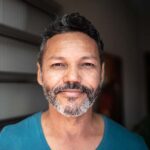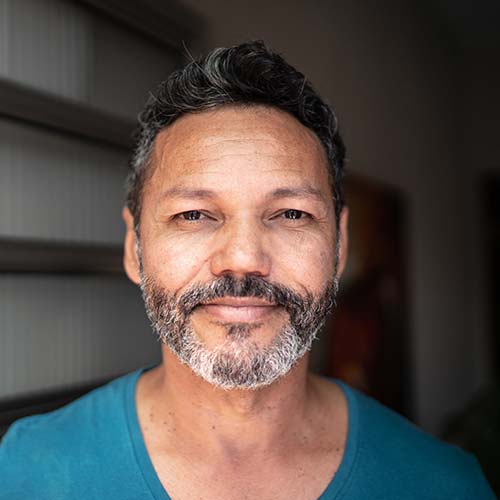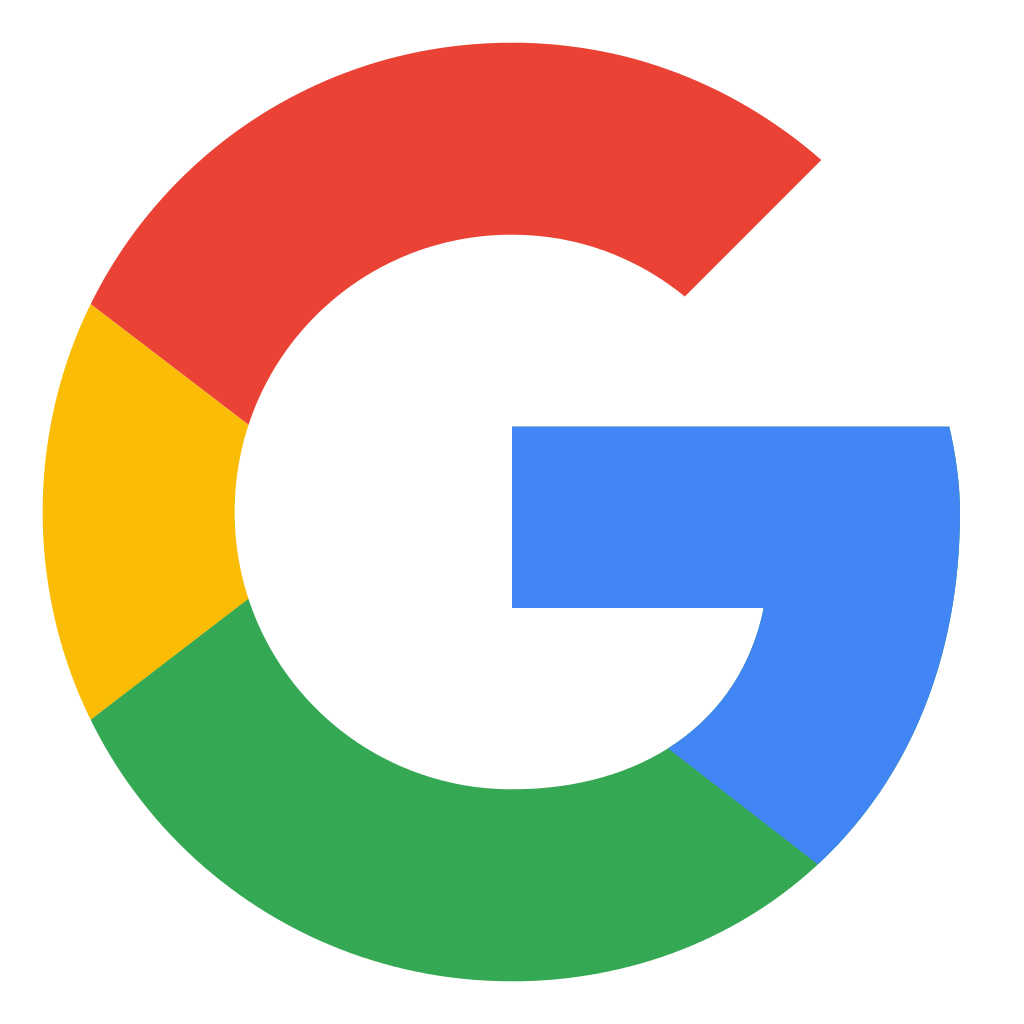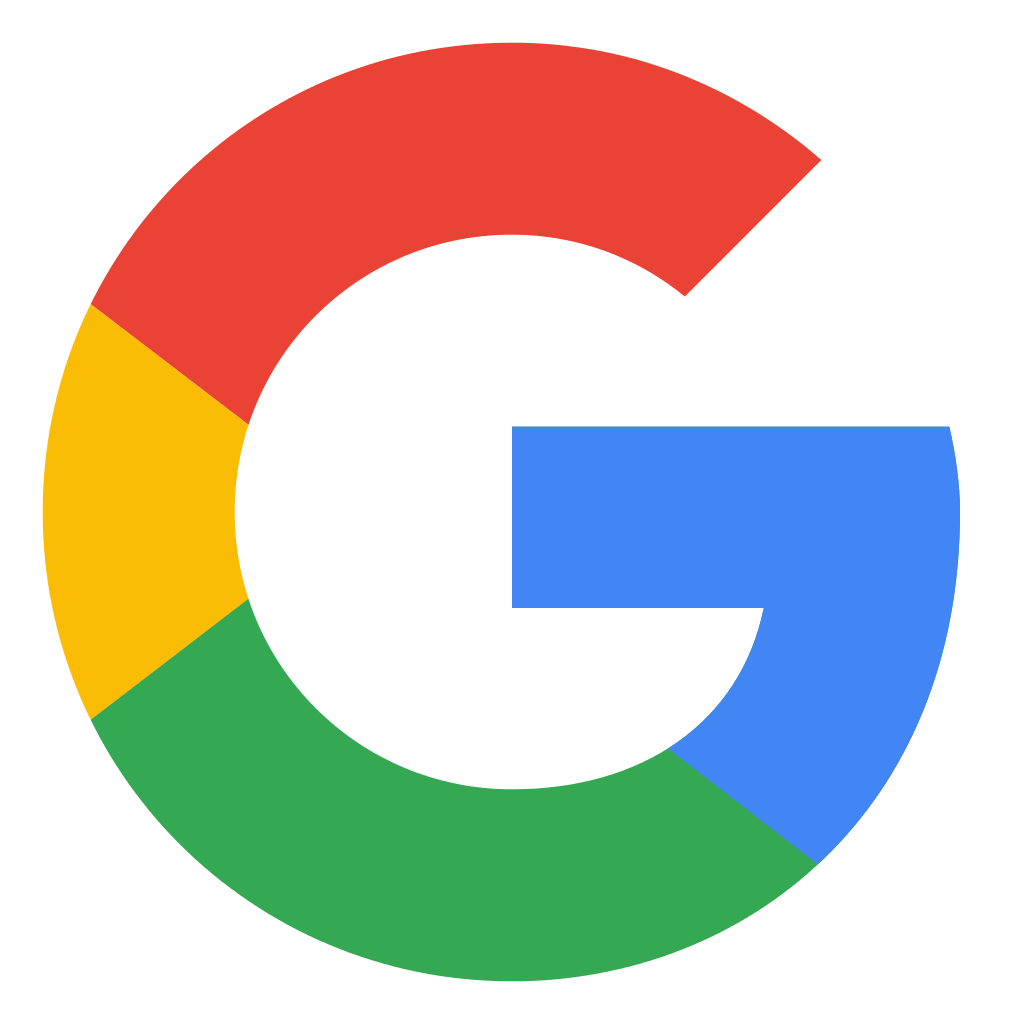 Darren E
Much to compliment Tresta on, but, I'll focus on what counts: service. The people have been amazing!! I needed some help getting things set up but all it took was one phone call and in minutes everything was set up exactly how I wanted it. Couldn't be happier and looking forward to a long professional relationship. Good on 'ya Tresta! Thanks for treating me right!
Frequently Asked Questions